Click on a horse for more details. Contact Sophie for more info on or to buy one of these horses for sale.
Now recent video footage showing of selected Horses. To view click onto Horse's name.
Horses for sale
9yrs , 15.1 hands , Coloured Gelding.

A really fun little horse who has won at Pre Novice level...

Burlington Boy
16.3hands, Irish, Bay, Gelding, 12 yrs, 26BE points.

Winner at Novice and clear Intermediate...

Robertstown Lad
Wyoming II 16.2 hands, 6yrs, Dark Brown Gelding.

Very quality horse with huge ability in all phases.
Wyoming II
6yrs, Dutch Bay Gelding 16.1 hands.

Delightful horse, Professionally produced and entered Novice.

Westerhof Limits
WALLIS SIMPSON 16.3hh, 6yo, Chestnut Mare, By SHERATON

Successfully competed 1.20cm SJ in Holland. Very bold and brave when XC schooled. Snaffle mouthed all phases...
Wallis Simpson
UNO DI LANDRO: 16.2hh, 8yo, Bay, Gelding

By NOW OR NEVER (International SJ) Qualified National Finals at Medium level dressage.

Showing huge potential over a fence.

Uno Di Landro
Hamco Let's Go. 16.2 hands, 7yrs Bay Gelding. By 'Come On'. 70% dressage and £180 BSJA.

Bold Cross Country.
Hamco
16.3 hands, 8yrs, Bay Gelding by Nexxus. Winner of 3 PreNovices in first season BE eventing with serious potential to go on.
Ummbug
Stunning 16.1hh , 6yrs Bay Mare. Dutch bred. Fully produced and competing Novice.

A potential Top Class event horse.

Get up and Jump
---
Horses Recently Sold
---
15.2 hands , 7yrs, Bay Gelding. 4th and 2nd in his last 2 Pre Novices. Extremely elegant with JRN / Junior Team potential.
The Sniper
Ultimate Schoolmaster. 16.1 hands 14yrs, Chestnut Gelding.

45BE points. Winner PC Champs and U21OI Trials.

Shortlisted Juniors.

Bishops Law
15.1 , 7yrs, Bay Mare. Extremely competent and successful at 3' PC ODEs all HHPC Teams Has the potential to JRN next year. Safe, snaffle mouthed hunter....
Norton Premier
KILNASCULLY, 10yrs , 16hands, Irish Bay Gelding with 19BE points.

Results this year include 6th Gatcombe Intermediate, winner Purston Manor ON, Clear Houghton Hall CCI* and Weston Park JRN Champs as part of the winning Central Team.
Kilnascully
16.2hh, 6yrs, Dark Bay , Irish Gelding with 9BEpoints. Definate 2* potential and beyond...

Parkmore Playboy
16.2 , 5yrs, Chestnut Gelding by Adultus Z Fantastic paces beautifully produced, showing real potential.
Aldo
16.1hands, 6yrs , Grey, Mare by Randi, dam by White Christmas (both Grade A)

BSJA £300 inc foxhunters. XC schooled,ditches, water,etc brave and snaffle mouth.

Wonderful
16.2 hh , 9yr old , Chestnut Gelding:

Just started Dressage competitions and aquired 26BD points, Qualified SW Dressage Champs and won both at Prelim and Novice level.

Maken
16.1hands, 7yrs, Dark Brown Gelding.

£350 BSJA winnings and 17BE points.

Pilot's Pleasure
15.3 Hands , Dark Brown, TB Gelding, 7 yrs.

Consistantly good results at Pre Novice - now ready to go on.

Greatest by Phar
17hh, 6yrs, Irish bay Gelding by MaltStriker.

Hunted exceptionally well and qualified JAS finals. Now ready to excel BE eventing.

Jimmy Mac
KIZINGO. 16.1hh, 6yrs , Dutch Gelding by Verdi (Grade A )

Exceptional ability in all phases, would suit amateur or professional to take on through the grades.

Kizingo
VINTAGE II , 16.2 hh,10yrs, Irish Bay Gelding.

9BE points and over £100 BSJA winnings. Ready to JRN teams and has ability to go on up the grades.

Vintage II
16.1hh , 7yrs, Dark brown, Dutch Gelding. 26 BE Points. Having placed 2nd twice and 1st at ON level. Ready for JRN teams...
Graf Landlord
Bellini Star. 16 hands, 5yrs , Dark Bay , TB Gelding.

This horse has the attitude of a schoolmaster and takes everything in his stride. Already entered PreNovice having already succesfully competed at Intro level.

Bellini Star
15.3 hh , Irish ,bay gelding, 6yrs old. A very talented young horse with the huge ability. Already placed at pre novice and a winner at JAS.
Sonny Day
16.2hh , 11yrs , Dark Brown , Gelding. 17BE points to include 1st and 2nd placings at Novice.
Mr Causeway
16 Hands , Grey, Gelding, 10yrs, ID/Connemara. 2BE points .

Pony Club SJ teams Gatcombe and Hickstead. Team chased over the biggest country...

Alpine Lad
Irish, 10yr old 16.2hh, Chestnut Gelding 13 BE points.

Clear 2 intermediates and a winner at Novice BE...

Pluto II
16.3 hands Grey, Gelding, 8yrs Belgian/ Selle francais breeding.

Experienced in all disciplines and Hunted to date. Now ready to excell BE eventing...

Acrobat
16.3hands, 6yrs old, Grey Gelding, German bred.

Competed lightly and placed in nearly all his prenovices. This is a very impressive horse - one for the future...

Da Ponti
Lake Street calypso - Sold

16.1hh, 8yr old, Bay mare. (Welton Ambassador)

Competed PreNovice and Novice BE with consistantly good results.

Ready to go on to JRN this year...

Lake Street Calypso
16.1hh , 11yrs, Irish, Grey ,Gelding; Fabulous schoolmaster with £900 BSJA winnings and good eventig form with 6BE points and top placings at pre novice...
General Maximus
---
STAGE MANAGER - Sold

64 BE POINTS,11 yrs,16.1 hands, chestnut, gelding. Results include wins at Intermediate level and a CIC** at Brightling Park.
---
CAPTAIN CRUNCHIE, 16.2 , 10yrs, ISH , Bay, Gelding, Won and placed Novice BE with 15 points.

£323 BSJA. Safe schoolmaster and a true gentleman.

Captain Crunchie
---
COLUMBCILLE COLLEEN - sold

Irish, 15.2hh, 9 yrs, Dark Bay , Mare by Puissance. Reguarly placed BE Pre novice to include 3rd West Wilts 2007. Brilliant mannerly hunter, happy to go first or last...
Columncille Colleen
---
16.1 1/2hh, Bay Gelding, 7yrs.

Hugely talented potential 4* horse...

Donny
---
15.3 , 6yrs, Grey ,Gelding. Here is a lovely horse to produce to be a fantastic competitor. He has the movement, scope and trainable temprement, being a very quick learner.
Jack
---
16.2 hands, 8yr old chestnut gelding with 16 BE points including finishing 3rd at Aston Le Walls last time out. This horse has NEVER faulted across-country...
Red River
---
RAMBLING RECTOR - sold

17 hands, 8yrs, bay, gelding. Brilliant jumper and super mover also fantastic hunter and pre novice winner, his best is to come...
---
A BIT OF OPPOSITION - sold

16.1 hh, 10yr, old; dark brown gelding, 17BE points to include a double clear at Tweseldown unaffiliated one star 3 day event, very low mileage due to dressage owner.
---
16.1, 11yr old, grey, mare. LUCY has been hunting with the heythrop and has fantastic manners, very brave but not strong - a pleasure for a lady to stay out all day! She also has movement and energy to go far in the dressage world, having already placed at Sansaw PC champs in the 'ride off'...
---
LANGARTH EDMUND

7 yrs old, Chestnut, gelding 16.1 hands. Competed in 2 pre novices and placed 1st at Broadway; Also won over £100 BSJA.

Langarth Edmund
---
DEEPMILL SANDPIPER - sold

15.1 hands 15yrs, chestnut, gelding by Kuwait Beach out of Welsh dam.

A true competitor ,who is sadly outgrown ,having given present owners 3yrs of fun,having won and been placed eventing, show jumping and dressage with the Heythrop pony club.

Also successfully competed at novice and pre novice horse trials.
---
HONEYPOT TIGER LILLY - sold

16.1, 7yrs, tricoloured mare by Stetson. She has already accumilated 15BE points- never having been outside the top 10, and this season has placed 4th at Gatcombe and 1st at Aldon novice.

A really consistant performer who has team potential.

Honeypot Tiger Lilly
---
15.2 hh, 12yrs, grey, Connemara gelding. 4BE points and over £500 BSJA. Fantastic bold, safe and reliable jumper. Seen present owner through open pony club to 7 double clears at JRN/ Novice level.

Just Freddie II
---
'Ullisa', 16.1 hands , 7yrs, grey, mare ; Here presents a real opportunity to buy a very special mare. Fantastic paces, with expressive movement and a huge jump- capable of jumping the biggest tracks. Already a winner at pre novice level...
Ullisa
---
15.3 hh, Dark Bay Gelding, 13yrs old.

He is absolutely priceless but has to be sold - a whole host of results...

Master Monty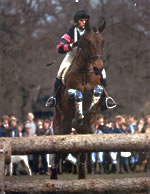 Sophie competing at Badminton on B J Perry & Co's "Proven Best".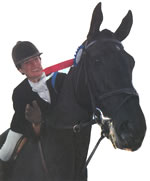 Sophie celebrating a win at Osberton CCI** on "Well To Do", owned by Norwegian air pilot Ivar Storli.