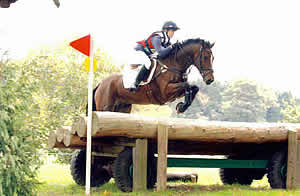 Chloe Kirkpatrick on Task Master 5th CCI* 2008
Sophie's 2009 Pupils to watch:
Chloe Kirkpatrick, 17yrs. Chloe rode on 2 Pony European Teams with her pony Puzzle VI and was 5th at Weston Park CCI* 2008 with her young horse Task Master. She has been training with Sophie for over 5yrs. Chloe is talented, dedicated and driven.
Iona Dent, 17yrs. Already a member of the British Squad at Thirlestane Castle Junior European Champs 2008 with Insync. Iona has been training with Sophie for over 7yrs. Iona is a very talented rider with a cool head.
Wills Goodhew, 17yrs. Wills rode successfully in pony trials and was a member of the winning Central team at Weston Park Junior Champs 2008. He has been training with Sophie for over 8yrs. Wills produces his own eventers and has natural ability and empathy with his horses.
Talia Laghzaoui, 13yrs. Talia is about to start FEI pony Trials 2009 with her mare Madame Topaz but has already had some noted results including a 2nd at Upton JRN. She is also competing her new ride Fitzwarren Dexter. Sophie has been teaching Talia for over 3 yrs. Talia is talented, brave and determined.
As a British Eventing Accredited Freelance Riding Instructor, Sophie is well qualified and fully certified to instruct all levels of rider and horse; from beginner, right up to Four Star competition level expertly and safely. Her clientele includes the full spectrum of abilities, some of whom are detailed below.
Sophie currently trains and assists the Heythrop Hunt Pony Club team
Rugby School and The Dragon School both use Sophie as their riding instructor. Under her instruction, pupils of these Schools have achieved noted successes:


Winners of the Stonar Inter-Schools One Day Event
Winners of Two Day Event at Offchurch Bury
Winners of Merrist wood Style and Jumping (JAS)
Winners of Team Dressage at Princethorpe


Sophie was Chief Instructor and Co-owner of Pebworth Vale Equestrian Centre
One of Sophie's strongest skills, which has been developed through experience, is her ability to improve and develop the partnership between horse and rider.
Sophie's rates are very reasonable. Click for Price details.
If you have any questions, or wish to contact Sophie to book lessons, please don't hesitate to make contact.